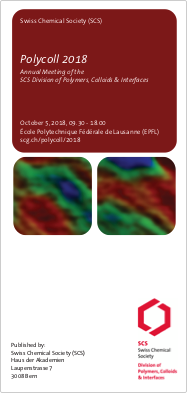 We are pleased to invite you to Polycoll 2018, the annual meeting of the Division of Polymers, Colloids and Interfaces of the Swiss Chemical Society, that will take place at École Polytechnique Fédérale de Lausanne (EPFL) on Friday, October 5, 2018.
Graduate students and postdoctoral researchers active in the field are encouraged to share their recent results with the community and to apply for oral and poster presentations, as this may foster connections between scientists at any career level, stimulate the exchange of research ideas, and result in future research collaborations. To present a poster please register as poster presenter online and upload a 1-page abstract  (please use the template that can be downloaded here). The maximum poster size is A0 portrait.
The scientific program will offer invited and contributed lectures as well as poster presentations in the following fields:
Polymer Chemistry and Physics
Colloids and Self-Assembled Systems
Surfaces and Interfaces
Supramolecular Materials
Biomaterials
Responsive and Adaptive Systems
Molecular Modeling
Special feature: three talks will be selected from abstracts submitted by PhD students, and the PhD Award of the Division will be awarded to the best presenter.
We hope that the highly topical and diverse program covering multifaceted aspects of polymer, colloids, and interface science will convince you to become part of a pleasant meeting on exciting research developments in soft matter materials and interface technologies. We are looking forward to seeing you at EPFL soon! 
Prof. Holger Frauenrath
Dr. Daniel Görl
Dr. Oguzan Oguz
---